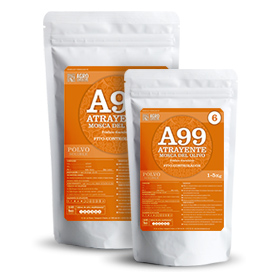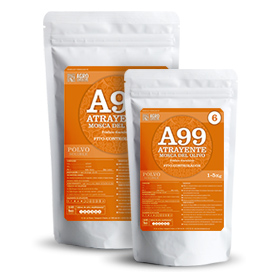 Attracts and captures olive fruit flies
100% olive tree improvement
Field-tested
Zero waste
Suitable for organic farming
A99 'ATTRACTANT' is a diammonium phosphate product indicated to attract and capture the olive fruit fly (Bactrocera oleae).
Benefits:
A99 'ATTRACTANT' an effective solution to control the olive fruit fly population.
The product is suitable for organic farming according with the European regulation (EC) nº 834/2007 of June 26th, 2007.
It does not contain pheromones or insecticides either in its composition or in its use.
The catch rate may exceed 70%.
Easy handling, dosage and storage due to its soluble powder presentation.
It does not leave residues either on the olive or the olive tree.
Presentation: soluble powder
Product quantity availability: 1 y 5Kg
Application Timetable: j–f–m–a–m–j–j–a–s–o–n–d