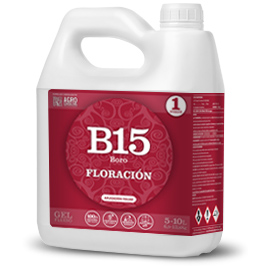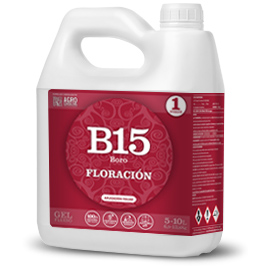 Strengthens the flowering and the fruit setting
100% olive tree improvement
Balances pH
Field-tested
Zero waste
B15 'FLOWERING' is a gel fertilizer rich in boron indicated to prevent and improve the deficiencies of this nutrient. Its action reinforces the vegetative growth, the flowering and the setting of the fruits.
Benefits:
Boron is involved in cell division and plant development. It takes part in the transport of sugars synthesized in leaves through photosynthesis, therefore, olive trees deficient in boron will have problems of malnutrition and stunted appearance.
It improves the pollen tube formation and, consequently, the fruit setting.
B15 'Flowering' is easily absorbed by the leaves and it is well tolerant by the olive tree.
Easy handling and dosage due to its gel form.
Cost reduction when carrying out low-dose treatments.
It is compatible with all nutritional correctors and most phytosanitary treatments (insecticides, fungicides and herbicides).
Presentation: fluid gel
Product quantity availability: 5 y 10L
Application Timetable: j–f–m–a–m–j–j–a–s–o–n–d