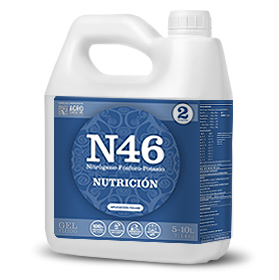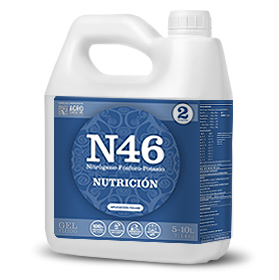 Promotes nutrient assimilation
100% olive tree improvement
Balances pH
Field-tested
Zero waste
N46 'NUTRITION' is a fertilizer composed of Nitrogen, Phosphorus and Potassium indicated to correct the deficiencies of these nutrients. It achieves nutritional balance and increases the number of fruit setting.
Benefits:
Its acid behaviour lowers the the nutrient solution pH, promoting nutrient assimilation.
It is well tolerated by the olive tree.
N46 'NUTRITION' is compatible with all nutritional correctors and most phytosanitary treatments (insecticides, fungicides and herbicides).
Maximum cost-effectiveness by avoiding the application of complementary pH correctors.
Easy handling and dosage due to its gel form.
Product free of impurities and does not clog the nozzles of sprayers.
Low risk of phytotoxicity, even at high doses. N46 'Nutrition' is a low phytotoxic product (chlorides, biuret. . .). Therefore, it does not cause damage either to the plant or the environment.
Presentation: fluid gel
Product quantity availability: 5 y 10L
Application Timetable: j–f–m–a–m–j–j–a–s–o–n–d