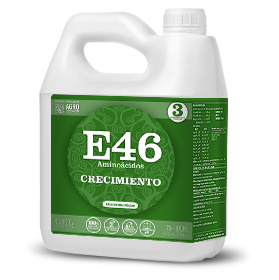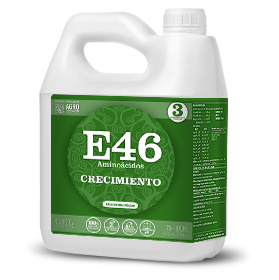 Strengthens the stem growth and increases leaf mass
100% olive tree improvement
Balances pH
Field-tested
Zero waste
Suitable for organic farming
E46 'GROWTH' is an organic biostimulant that promotes the vegetative growth of the olive tree, strengthens the growth of the stem and increases the leaf mass.
Benefits:
E46 'GROWTH' is a plant origin product obtained by enzymatic procedures indicated to stimulate and reinforce the metabolic functions of the plant.
It is a powerful activator of metabolic functions in normal and stressful conditions (droughts, frosts, high harvests…).
Its acid behaviour lowers the the nutrient solution pH, fostering nutrient assimilation.
Product suitable for organic farming according with the European regulation (EC) nº 834/2007 of June 26th, 2007.
It is well tolerated by the olive tree.
E46 'Growth' fosters potassium penetration via leaves.
It is compatible with most phytosanitary treatments (insecticides, fungicides and herbicides) increasing its effectiveness.
It reduces the olive tree energy expenditure.
Cost-effectiveness when carrying out low-dose treatments.
Easy handling and dosage due to its gel form.
Presentation: fluid gel
Product quantity availability: 5 y 10L
Application Timetable: j–f–m–a–m–j–j–a–s–o–n–d