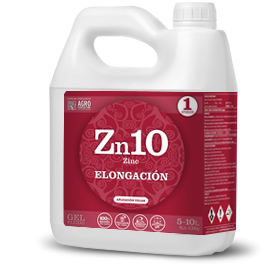 Enhances shoot elongation and increases olive size
100% olive tree improvement
Balances pH
Field-tested
Zero waste
Zn10 'ELONGATION' is a gel fertilizer rich in Zinc indicated to prevent and improve the deficiencies of this nutrient. It enhances the olive tree vegetative development, the lengthening of shoots and it is helpful to set the olives and increase their size.
Benefits:
Zn10 'Elongation' restores low levels of zinc, an essential nutrient for the olive tree.
Zinc is directly related to the synthesis of auxins, plant hormones that regulate plant growth. Its deficiency affects the olive tree growth, the fruit setting and the early stages of olive development. In cases of severe deficiency, the density of the fruit settting is scarce and the size very small. In addition, it can cause total unproductivity of the olive tree.
It prevents and improves the deformation of shoots, branches and leaves.
Zn10 'Elongation' is easily absorbed by the leaves and it is well tolerated by the olive tree.
Easy handling and dosage due to its gel form.
Cost reduction when carrying out low-dose treatments.
Product free of impurities and does not clog the nozzles of sprayers.
It is compatible with all nutritional correctors and most phytosanitary treatments (insecticides, fungicides and herbicides).
Presentation: fluid gel
Product quantity availability: 5 y 10L
Applciation Timetable: j–f–m–a–m–j–j–a–s–o–n–d